GIANT BEETS!!!!!!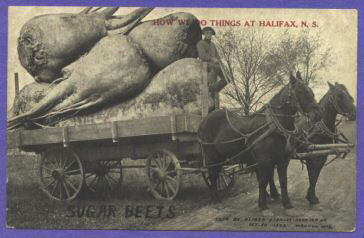 Why giant Sugar beets?
Well it all ties into the area where I grew up and a former Sugar beet processing Plant north of Mason City Iowa.
Not that I'm really a big Beet fan, but the building has a really cool piece of 50-60's art on it that a friend of mine would really love to have on a t-shirt. It's the american Crystal Sugar co. Fairy and the only ting that keeps me from going and taking a photo of it is that whoever owns the building now built a frigging loading dock over 1/3 of the picture!!! yeese no sens of history - that's Mason City in a nutshell - unless they can exploit it like they do Merideth Wilson & the Music Man. Otherwise it's just a matter of time before every remotely historic object in town gets bulldozed for a new bank, church or half filled strip mall.
Yeah I'm still bitter they knocked down teh old Drive In theatre to put up a car lot. And ripped up the old downtown including two big old style theatres to put up a Mall which hasn't been fully occupied since the 80's. Knocking odwn a relatives 30 year old locksmith shop to put in a road to a new strip mall & supermarket doesn't help much either...
Still if you ever happen to find a picture of the American Sugar Co Fairy mascot that used to be on the American Sugar beet processing plant in Mason CIty Iowa, I would love to get a copy! I tried contacting American Crystal Sugar company (who technically is the company that used to own the plant back in teh 60's) but I never got a reply from them :(
< Back