Clear Lake Iowa
My take...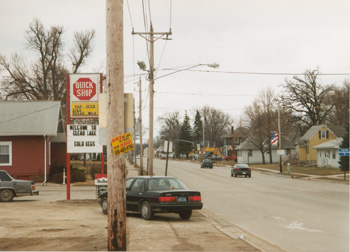 Clear Lake Iowa is a lot of things to a lot of people. In the summer it is a mecca for vacationers seeking out a little fun in the sun... I'd say on the lake itself, but in the past few years the nastiness factor of the lake has escallated rappidly. Hopefully someday they will get it cleaned up, but maybe they should just change the name of the town to "icky green goo lake Iowa" nah... no one would go for that :)
Actually the poeple who come every winter to celebrate Buddy Holly and the Big Boppers last performance (before crashing and burning in an airplane accident a few miles away) probably wouldn't care. The lake is frozen over in the winter. well mostly frozen over. Seems like poeple keep finding new and unusal, though frequently snowmobile related ways to die in there in last few years.
ANYWAY, Clear lake, to me, isn't about that touristy crap. Clear Lake is about Breadaux Pizza, the best in north Iowa, and the Quick Shop - Clear Lakes Drive Up liquor store. The sign is a bit fuzzy here, so here's a closeup: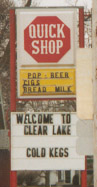 How great is that for a welcome?

Back to funkystuff