From Days gone bye...
The Amazing
I Don't Know Band!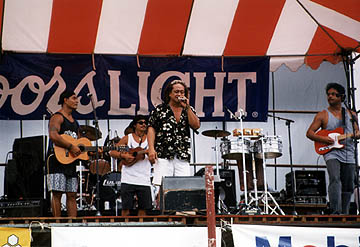 Spent a bit of time hanging oout with these dudes back on Saipan, they were pretty cool.
Hmmmm Samoans on Saipan... Who'dathunkit?.
They even dropped me a line and have thier own WEB SITE with music pictures news & more!
Brings back memories of sashimi & barbeque. Being in and seeing drunken states I'd never imagined existed consuming god knows what whenever possible. Late night fires & strumming on guitars. Trips to Guam & Shannon who we all miss. Some of the scariest sights I've ever seen and some of the funniest. Ah for one more night at the Remington Club...
I still feel lucky to have gotten to tag along for a while.
Best Wishes & keep on keepin' on!
...of course I could always try to upload some of the video I have of them...
Back to funkystuff